The problem with the Australian share market: is entrepreneurship dead?
Australian investors concentrating their portfolio just on large Australian shares are missing big opportunities as innovation and true wealth creation around the world leave many Australian companies looking old-fashioned.
Australia's share market is one of the most concentrated in the world with the top 10 stocks on the ASX representing almost half the total value of the market.  According to the ASX, there's about 2,400 stocks listed on the exchange at any time so that means that 2,390 stocks represent the other half of the market by value.
In Australia there are 557,000 self-managed funds (SMSFs), with an average balance of $564,000 and with average number of holdings of 18 stocks.  Of these stocks, 51 percent are invested in banks and resource companies.
What these statistics point to is that Australian SMSF investors are far too conservative when they choose the stocks they invest in, and they may be unwittingly taking on far more risk than they think they are.
So now let's introduce the biggest challenge Australia faces in terms of its wealth creation. Australia's leading futurist and demographer, Bernard Salt AM proposes that Australian business is just not entrepreneurial enough.
In the US market, five of the top 10 stocks by value were formed in the last 50 years.  Microsoft, now valued at over US$597Bn was started in 1975 in Bill Gates' parent's garage.  The US Market Top 5 reads like a Who's Who of entrepreneurs, innovators, value creators and world-changers. Apple, Google, Microsoft, Facebook and Amazon.com.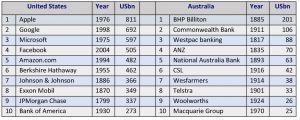 By contrast Australia's' Top-10 reads more like a meeting of old school company managers, except for Macquarie Bank which is one of our few true growth stories.
This data suggests a number of things.  First, Australia has a stewardship culture rather than and entrepreneurial culture around business. Bernard Salt rightly asks the question, is Australia really fostering the kind of entrepreneurship that creates real wealth over time?
Second, as investors, if we concentrate all our attention on the Top 10 Australian stocks we are seriously limiting our real wealth creation opportunities, and in a strange twist we are increasing portfolio risk by not diversifying. In portfolio management terms, this is a crazy proposition.
Every portfolio will benefit from diversification; and exposure to smaller companies is a great place to start.  Then to gain exposure to future innovation through technology advances, healthcare and renewable energy capture in other words, the industries of the future, global diversification is absolutely essential.
If you are running a concentrated portfolio focused on large Australian stocks it may be time for a second opinion. Capital Partners is the FPA Professional Practice of the Year, and is committed to helping people live richer, happier lives.
You can read more articles about investing, or visit SmartInvestor.TV for some great video content.
1What SMSFs are Buying – ASX Education