When it comes to retirement planning there's no doubt that the initial focus is on questions like – how secure will we be? How much will we need? How certain can we be?  
Once those questions are answered, the conversation tends to move on to other topics like family. It can be a touchy subject of course, as money matters often are. But student loans – in Australia, referred to as HECS-HELP debt is rarely discussed. 
In 2019, there was an extraordinary story about a US billionaire who pledged to pay the collective student loan debt of the graduating class of his alma mater, Morehouse College in Atlanta. 
The man in question, Robert F Smith – reported to be the wealthiest African-American – made the surprise announcement during the graduation ceremony.  You can view the reaction he received here. 
Student education loans are a big issue in the US with at least 58% of undergraduates in 2017 taking a loan to fund their studies. When they leave college, US students have on average $32,000 in student debts. 
Here in Australia, the situation is similar.  More than one in 20 graduates in Australia has a student debt of $50,000 or more. There are 2.66 million Australians with student debt, over 14,000 of whom have loans over $100,000.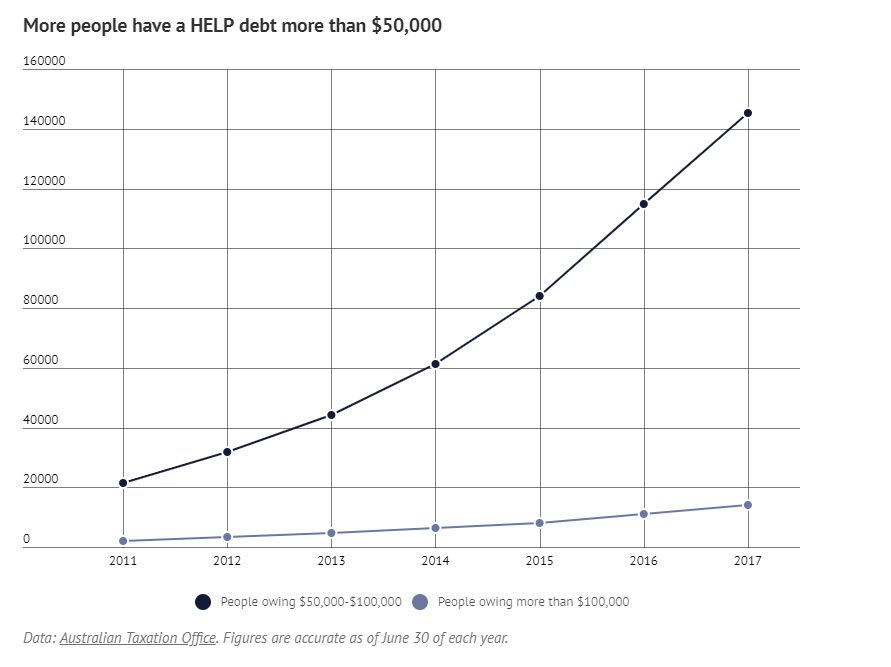 In recent years there has been a significant shift away from vocational degrees in favour of undergraduate and master's qualifications. In student days (last century!) we could complete a three or four-year degree and on graduation, enter the workforce.   
Today, to become an engineer through UWA, a student completes an undergraduate course like the BSc, followed by Masters in Engineering.
Using the UWA fee Calculator it is easy to establish that the cost of the BSc is about $8,900 per year, while the masters' qualification is a further $18,000. That's a total of $44,500 for the five-year program assuming the student is Commonwealth supported.
Once qualified, the full-time graduate begins paying off their loans as soon as their salary reaches $51,957 with the repayment rate ranging between 2% and 8% of salary depending on the income level. 
There's no doubt that studying at university boosts an individual's income and career prospects so it's a worthy investment – but having a plan to pay off student debt and then get ahead in life will be critical to our younger generations' success. 
Getting help with a student loan can really create a launchpad for life. For grandparents who have the financial capacity to help, this may be food for thought…
In a world filled with political, economic and social uncertainty, sound financial advice – advice based on evidence and your values and life goals – holds the key to a happier, healthier life. This is what we believe at Capital Partners. And our experience helping hundreds of clients build wealth with purpose bears this out. Read more about our evidence-based approach to wealth planning, investment management, legacy planning and insurance.