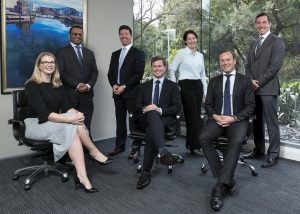 (Left to right)  Kathryn Creasy, Rakesh Shah, Michael Hayward, James McLeod, Charmaine Lamprecht, Steven Boyce and John Ryan
For over two years now, we have been working towards the implementation of a succession plan that will welcome a new generation of owners at Capital Partners.
Next year marks our 20th anniversary, and with all of our founding principals in their 50's, it makes sense for us to be thinking about the future.
Firms like ours have a range of options when it comes to passing the baton, but most often we see the founding owners sell into institutional ownership. As we have seen through the sordid hearings of the Royal Commission,  institutional ownership of advice firms rarely serves investors well.
Some time ago we agreed that our clients' interests were best served by Capital Partners remaining privately owned and free of institutional influences.  This means that we need to take a long-term view to ensure the leadership and ownership of the firm passes to the next generation in an orderly manner.
The formal process of succession commenced in early August with seven new principals taking up a combined 10.5 per cent shareholding in the firm.  They join our existing principals David, Michael, Chris and Serena. We are delighted to welcome our new principals and believe we are securing the future of Capital Partners for the benefit of our clients and their families.
Few financial advice firms in Perth have the depth of experience, the capability and resources to advise families across generations.  We believe our inter-generational ownership approach will enable us to fulfill this role for many families in the future.
Over the next 15 years you will see a gradual change in the leadership and ownership of Capital Partners as our next generation increase their influence and contribution. But importantly, other things won't change.  We will remain committed to providing quality advice and maintain a deep commitment to doing the right thing.
Capital Partners is the FPA Professional Practice of the Year, and is committed to helping people live richer, happier lives.